According to normal development, baby will start teething in the fifth or sixth month of age. However, there are many babies who grow slowly, until 8 months of age have not teething yet. So is it unusual?
@ Parents shouldn't be too worried when baby at 8 months of age have not teething yet.
Because normally, a newborn baby also had a germ of milk teeth in the jawbone.
After the next few months, the baby teeth system will begin to separate the gums and grow up. The total time it takes for your baby to grow all 20 baby teeth is usually between 2.5 to 3 years old.
The order of baby teeth development will be as follows: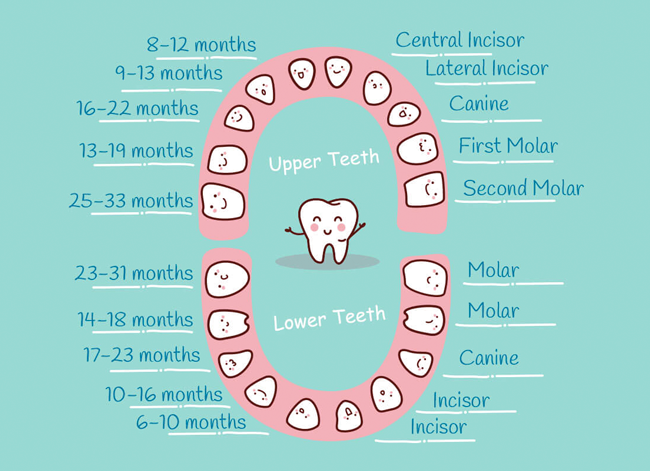 Thus, if baby at 8 months of age have not teething yet, it may be physiological or genetic; Or more seriously, the baby has rickets, or malnutrition.
However, based on the teething process described above, it's not too late for baby 8 month of age is still not teething.
In fact, there are babies have 2 first incisors very early, sometimes on 4 or 5 months of age. And also there are babies who grow 2 first incisors later, when they are 9-10 months old.
@The reason of baby at 8 months of age have not teething yet?
If your baby's diet and baby's health is normal. The normal development index. So even if your baby's teething slowly, it is not worrying.
Except for the cases, the baby is slow in teething just with unusual signs. Such as: slow weight gain, height does not increase or increase little, lazy to eat, hair grow like a towel ring… At that time, parents should take the baby to visit a pediatric hospital, or a clinic with a prestigious pediatric specialist.
Some common causes leading to the fact that babies in 8 months old are still not teething as follows:
Due to genetic characteristics
Premature birth
The baby is difficult to eat, difficult to absorb, lack of substance. Babies are malnourished, lack of Calcium, Vitamin D … Identifying signs: lazy to eat, hair towel ring, or sweaty, sleep is not deep, fontanel wider than usual…
Due to the late weaning diet, gums and tooth germs are not stimulated by the daily chewing reflex.
So, what do parents need to do when their baby at 8 months of age have not teething yet?
If case of normal baby health, normal growth, parents should be less worried. You may want to have your child see a doctor to help determine the cause. In addition, it is necessary to change the weaning diet more diverse, to help your baby have more nutrients and stimulate tooth growth.
If teething is caused by rickets or malnutrition; In addition to the treatment of your doctor, you also need to add some small tips below:
Add 1-2 tablespoons of cooking oil in each cup of your baby's food, to increase absorption of Vitamin D and Calcium
Everyday perform regular sunbathing for about 15 to 30 minutes. Note that you should sunbathe before 9 am.
If a mother still feeds her baby every day, mom's diet needs to be diverse and full of nutrients.
If your baby is drinking powdered milk, be careful not to use vegetable broths to make the formula. Do not use mineral water or diluted porridge water with milk because it will reduce the ability to absorb nutrients.
The above reference information can help you to reduce unnecessary anxiety when having a baby at 8 months of age have not teething yet. Working together to help your baby eat and grow up quickly.
QUOC BINH DENTAL CLINIC IN VUNG TAU
19 Pham Hong Thai, Ward 9, Vung Tau City.
28 Le Loi, Ward 4, Vung Tau City.
Hotline: 0914 83 99 66
General information page: https://www.facebook.com/nhakhoaquocbinh/
Intensive dental information page: https://www.facebook.com/nhakhoathammyvungtau/