In our lives, at least a few times we have had some cases of dental fillings after curing tooth decay or chipping. So, do you wonder what kind of dental fillings your doctor has used to treat you?
In the dental fillings, besides the technique of the performer, the fillings play a very important role, deciding the quality of the treatment and the duration of use later.
Each type of dental fillings material has different strengths and weaknesses, and be suitable for each specific case. Such as:
Amalgam: This is a mixture of silver, copper, tin, mercury. Helps a tooth filling with high impact force and long lasting. The cost of treatment with this material is relatively cheap.
However, the most noticeable disadvantage is that the color is not aesthetically pleasing, it is silver-gray in color difference with enamel. It is therefore only fillings can be used on internal teeth such as molars. In addition, the thermal conductivity of the seal is quite high, so it is easy to cause sensitivity in the teeth.
Silicate cement: This is the traditional dental fillings material. With the advantages of color similar to real teeth, easy to use and cheap. The filling piece is poorly heat conduction and cling tight to the filling surface. At the same time, some products of high-grade silicates also added Flour to help limit cavity very well.
However, this material is under very poor pressure and easy to wear, so it is often used to seal the neck of the tooth when treating for tooth erosion disease. This is a place of worn out enamel, easy tooth decay and sensitive to heat as well as to the pressure acting in the oral environment.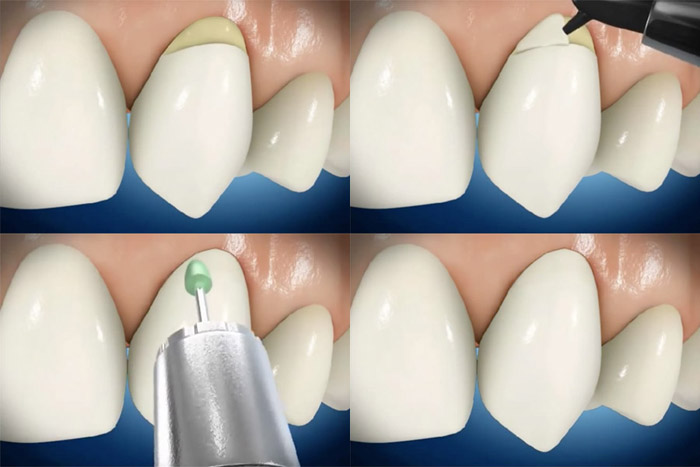 Composite: This dental fillings material is quite popular due to its high aesthetics and its benign with mouth. Bright colors, like tooth enamel, easy to shape, so often will apply to cases of cosmetic filling (fillings the tooth decay, sparse teeth, light breakage). In addition, the cost of composite is not too expensive so it is very popular.
However, with the advantages, there are some disadvantages that are worth mentioning, it is easy to change color after 1 year of use, and often peeling after 2 – 3 years. There is also a drawback that patients especially women feel shame that is the risk of causing bad breath.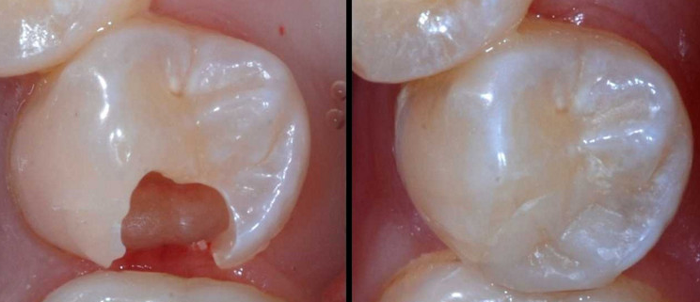 And this is a very special dental fillings material
Onlay / Inlay porcelain: This is a high-grade dental fillings material. The color is similar to real teeth, bringing aesthetic.
This material is made of porcelain dental material, has the same strength as porcelain crowns, especially the filling is designed for each tooth damage.
Often used only for cases of severe tooth decay or heavy bursts on the same surface and the patient wishes to achieve the highest aesthetic.
The biggest disadvantage of this type is the high cost of treatment.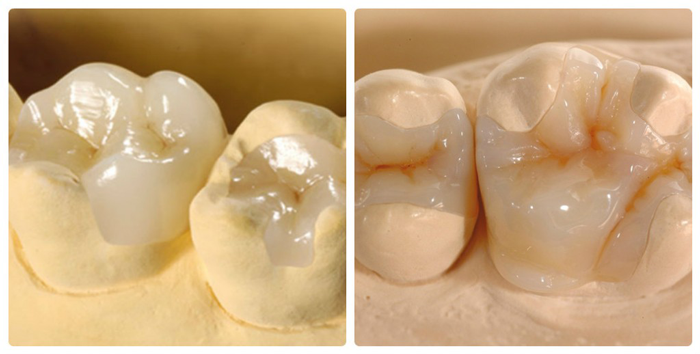 How to choose the right dental fillings material?
The information shared above only helps you understand what materials are put into the teeth. In fact, depending on the medical conditions, the doctor will help you select the best material. Therefore, choose a reputable clinic, regularly update technology will help you completely peace of mind about quality.
Currently, aesthetic dental fillings method as Composite and porcelain Onlay / Inlay are very interested.
Composite fillings: in terms of price, aesthetics, quality of fillings, technical implementation, location applied … this is the top priority. Despite the disadvantage of life expectancy is not high, but still overcome by modern welding technology, will help the sealer lasts for a long time.
Inlay/ Onlay Ceramic: This is a modern method that can help restore the initial shape of the tooth. Premium dental fillings material, designed specifically for each tooth missing. The seal is not affected by pressure and heat from the environment. Longevity can be as high as porcelain crowns if preserved well.
However, because the cost of treatment is quite high, this method is quite fastidiuos patients.
If you have more interest in today's popular dental fillings, you can contact our dentist for advice. And you will be absolutely free.
Contact Info:
Hotline 0914 83 99 66
Online information page: https://www.facebook.com/nhakhoaquocbinh/
Medical address:
19 Pham Hong Thai, Ward 7, Vung Tau City
28 Le Loi, Ward 4, Vung Tau City
Quoc Binh Dental Clinic.