Tooth decay can make you feel pain or not feeling anything. However cavities are not as simple as you think. There are many dangerous complications from tooth decay that seriously affect your health. So do you know what they are?
Inflammation of dental pulp and fracture of the teeth are dangerous complications from tooth decay
Tooth decay can happen silently, when they only attack the enamel, you will not feel pain. But if tooth decay has damaged the dentin, then toothaches appear. Especially dangerous complications from tooth decay need to emphasize is pulpitis.
When teeth are heavily damaged, the tooth structure is altered, leading to weak and easily broken tooth tissue. More dangerous is the condition of loose teeth and can fall from the jaw bone.
Tooth decay causing pulpitis will have severe pain on the head. Pain through the night prevents you from sleeping. Due to the pulp is the place where the nerves conduct the sensation. So when infected, this area will cause you endless pain. Affect eating and daily life.
Gingivitis is a very common condition today.
When bacteria cause tooth decay, it spreads and causes gingivitis. You will notice red and painful gums, may bleed when you brush your teeth or you touch the inflamed area.
When the gums swell too much, there will be signs of pus, strong aches and bad breath.
It is necessary to treat the area where the bacteria that cause tooth decay clean by eliminating their habitat and using anti-inflammatory medications.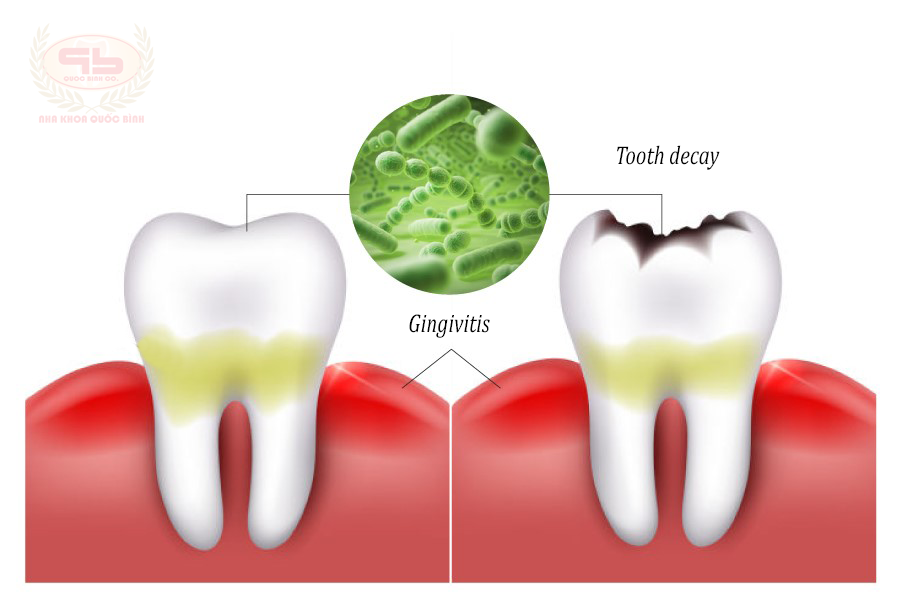 Add more one of dangerous complications from tooth decay to note. Tooth decay can cause periodontal inflammation, tooth abscess.
Gingivitis is not treated well, the bacteria that cause tooth decay grow too much, leading to inflammation of the periodontal ligament tissue.
As the periodontitis progresses, you will feel intense pains. There will be more white pus at the base of the tooth, when gently pressing on the swollen gums. At this time, you will notice that your mouth smells bad, and your teeth are shaking a lot.
Besides, adding more dangerous complications from tooth decay is the condition of tooth abscess. Tooth abscess causes tooth tip to become infected, tissue surrounding teeth damaged. Your body will now respond to the infection with a high fever, and unpleasant pain. If the disease worsens, it may affect the upper jaw sinuses.
Further reference:
"What do you know about inflammation around the root of the teeth?"
The reason when you have a toothache, your head feels painful too
When tooth decay develops, causing pulpitis, necrosis can occur. Damages that are not cleaned and removed from the alveolar bone are at risk of infection of the area. Meanwhile, the nerves that transmit sensation in the teeth are affected, which will lead to the brain and cause headaches.
So, tooth decay that causes headaches is an indication that the pulp chamber has been damaged. The pain will appear much at night, making you unable to sleep. Severe overall health effects.
The dangerous complications from tooth decay to slow the growth of children.
Speaking of children, we will immediately think about the condition of milk tooth decay. The cause of this disease has many reasons. But it will mainly be due to improper diet and oral hygiene.
When the baby has tooth decay, causing pain, hindering daily chewing, changing mood. The baby feels more uncomfortable, does not eat, and reduces the absorption of nutrients.
Therefore, parents should not neglect to take care of baby teeth. Special attention, dental problems should go to the dentist for treatment. Do not arbitrarily buy drugs sold rampant on the Internet with unknown ingredients and origin. Or arbitrarily buying antibiotics without a doctor's control, will lead to unpredictable consequences.
Please register for free examination and consultation from dental experts at Quoc Binh Dental Clinic.
—- ☘️ ☘️ ☘️—-
QUOC BINH DENTAL CLINIC IN VUNG TAU CITY
Chief physician PHAN QUOC BINH
Add 1: 19 Pham Hong Thai, Ward 7, Vung Tau City.
(Sunday break every week)
☎️ 09148399 66 / (0254) 383 99 66
Add 2: 28 Le Loi, Ward 4, Vung Tau.
(Every Saturday break)
☎️ (0254) 381 83 18
Add 3: 649 Truong Cong Dinh, Ward 8, Vung Tau
Dentist in charge of Dr. NGUYEN HUU CHIEN
☎️ 0708 649 649
(Closed every Friday)
⏰ Working time: 7h30-11h30, 14h-20h30
General information page: https://www.facebook.com/nhakhoaquocbinh/
Intensive dental information page: https://www.facebook.com/nhakhoathammyvungtau/