Parents always want their children in good health. And so is the desire for dental health. The common oral problems in children are common in all ages. From the beginning of having the first tooth to having a complete set of permanent teeth. Therefore, proactive care and prevention are very important.
Here are seven common dental problems in children that need attention
Tooth decay is one of common oral problems in children
Most children are not very good at brushing their teeth. And if the parent is not supervised, the oral cleaning may not be effective.
Children love to eat sweets, the plaque builds up, the acid in the plaque erodes tooth enamel; Combined with improper brushing, the baby has tooth decay will be obvious.
Parents should supervise and help their children brush their teeth clean until they are completely self-controlled. Create a habit for your baby to periodically examine his teeth every 6 months at familiar dentists.
If the baby unfortunately has decayed teeth, it should be treated to help preserve the remaining teeth.
Sensitive teeth are also one of the most common oral problems of concern in children
Sensitive teeth make the baby uncomfortable, eating or drinking daily activities are also hindered. Even when studying, children are often distracted. The results adversely affect the baby's quality of life.
Sensitive teeth have many causes. Some of the most common reasons are as follows:
Caries
Permanent tooth replacement
Enamel is worn out
Gritting teeth
Unleash the old fillings
In the period of orthodontic braces.
This way, finding ways to reduce tooth sensitivity (depending on the cause) will help your child feel more comfortable in life.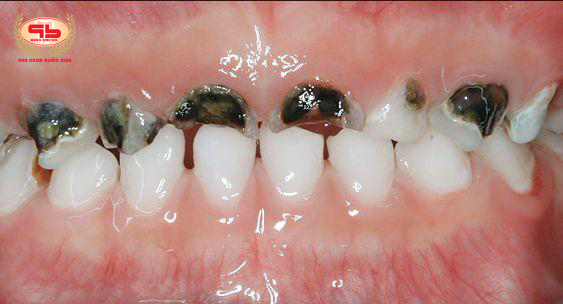 Unexpected emergencies
At a young age, children are often very active, and collision is inevitable.
A dental emergency can happen at any time. While the children are playing sports, or playing with friends. Or fall while moving. The result of these situations will be a tooth fracture, cracked tooth or tooth loss.
Gingivitis is one of the most common oral problems of any age.
We may have thought that gingivitis was unique to adults. But in fact, gingivitis is quite common in children. The most noticeable manifestation is that the gums are swollen, and bleeding when the baby brushes their teeth, or eats food that gets stuck on the gums.
Gingivitis is more likely to occur in children with poor oral hygiene. And this is also the cause of the receding gums, toothache.
The good news is that this can be prevented with just good oral hygiene. Combined flossing and mouthwash with normal saline.
In other situations, gingivitis can be caused by crooked teeth. And the teeth cleaning becomes more difficult. So the gums are prone to inflammation.
Misalignment in children is a common and serious oral problem that parents often simplify.
Without any dental intervention, very few children have perfect teeth.
However, with modern medicine, correcting incorrect eruption is no longer too difficult.
Some common deviations such as: over bite, under bite, crowded …
Parents should follow up during the child's teeth change; And if you find any strange signs, need to see the dentist immediately
Finger sucking can cause occlusion misalignment
If your child has thumb sucking or using a pacifier for a long time this could cause open bite
This is the condition in which the upper premolars can't contact the lower incisors even in a closed state. This gap makes it difficult for children to chew and pronounce incorrectly.
As a precaution, you should stop the above habit before your baby enters the toddler stage and teeth begin to develop.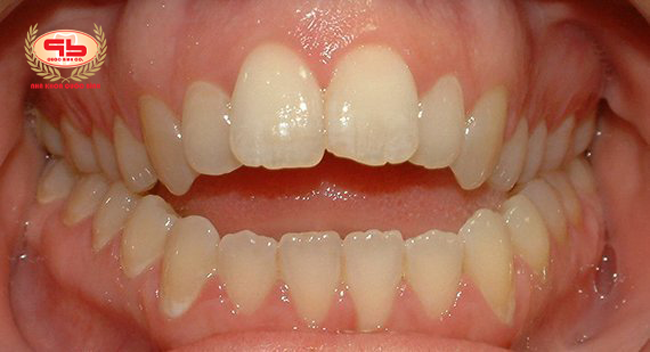 Excessive fear when going to the dental office, or when talking about oral issues.
Although this is not a dental disease, but the psychological fear will limit the chances of the baby being controlled and early diagnosis of oral diseases.
We need to create a comfortable experience for our children when going to the dentist, and being in contact with the doctor. Do not scare or yell at your baby, it will increase your negative emotions.
In addition, parents need support in interacting with their children every day about the importance of oral hygiene. Help your baby form good habits. It is okay to spend time brushing with your child, and be gentle with them every time they come to the clinic.
Thus, there is no oral disease that we cannot prevent early. Protect your oral health with your child very well, help improve the overall health of the body. Repel seven common oral problems in children.
Contact immediately 0914 83 9966/0254 383 9966 for free consultation and consultation for all services at Quoc Binh Dental Clinic in Vung Tau city.
————————————————–
QUOC BINH DENTAL CLINIC IN VUNG TAU VŨNG TÀU
Chief doctor Dr. PHAN QUOC BINH
Facility 1: 19 Pham Hong Thai, Ward 7, Vung Tau City.
(Closed every Sunday)
☎️ 09148399 66/ (0254) 383 99 66
Facility 2: 28 Le Loi, Ward 4, Vung Tau City.
(Closed every Saturday)
☎️ (0254) 381 83 18
Facility 3: 649 Truong Cong Dinh, Ward 8, Vung Tau City
Dr. NGUYEN HUU CHIEN
☎️ 0708 649 649
(Closed every Friday)
⏰ Working time: 7h30-11h30, 14h-20h30
General information page: https://www.facebook.com/nhakhoaquocbinh/
Intensive oral aesthetic information page: https://www.facebook.com/nhakhoathammyvungtau/