When children are very young, parents often see red swollen gingivitis in them. Is this an urgent situation that requires immediate treatment? Together with Quoc Binh Dental Clinic in Vung Tau learn more about this situation.
When does your child has red swollen gingivitis?
Often the main cause of this condition is due to plaque that forms too much on the teeth.
When a child is very young, it is difficult for children to practice oral hygiene. And parents also think that at this age it is not necessary to brush and rinse baby's teeth daily as adults; Or even if having oral hygiene but not done properly; Causes more plaque and facilitates bacteria to multiply, damaging your baby's gums. The harmful bacteria cause damage to young teeth tissue, and inflame a red swollen gingivitis, causing pain.
So do it need to treat red swollen gingivitis in children?
The answer: treatment is required as soon as the baby is found to have this condition.
When your baby's gums are swollen, painful, make them uncomfortable, crying all day long. Red swollen gingivitis is easy to see because your baby's immune system is weak; At the same time, the milk teeth also are weak; So this is a favorable factor for bacteria attack and causing gingivitis in children.
Without early treatment, the baby's teeth are at risk of wobbly, causing further inflammation around the teeth. And it's easy to lose teeth.
How to treat red swollen gingivitis in children?
First, the doctor will examine and diagnose the stage of gingivitis at which stage.
After that, it's usual to do dental hygiene for children. The doctor will clean the plaque on the teeth, dental tartar, if milk tooth was decay must also treat tooth decay.
Parents need to give their baby medication prescribed by a doctor to ease the pain and swelling. When the gums become better, returning to the ruddy state as usual, the baby will no longer be uncomfortable. Children will eat better.
The notes parents need to care of dental health for young children
Get into the habit of visiting the dentist every 3 months for your baby. If your family has a good habit of maintaining oral health, you can check it out every 6 months.
Protecting the oral health of young children, from a young age, it's necessary to clean gums, tongue and teeth in appropriate forms.
Such as:
When the baby is <1 year of age: can use medical gauze, brush tongue and gums. If baby have teething, you can clean their teeth after feeding or weaning.
When the baby is 1-2 years old: you can use a soft bristled brush and a small head, combine physiological saline brush for your baby.
At the age of 3 years or older, babies can use children's toothbrushes and toothpaste to clean their teeth.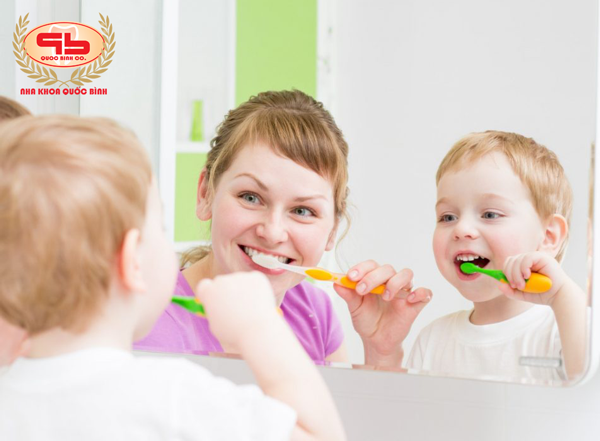 For children, it's true that child's oral hygiene is a challenge for parents. You can read some tips that Quoc Binh Dental Clinic has prepared to support diligent children to brush their teeth.
More reference (link attached):
"The small tips to help mothers brush their baby' teeth more easily"
If you need any more, you can Inbox for Quoc Binh Dental Clinic, or call immediately 0914 83 99 66 for further instructions:
Address:
QUOC BINH DENTAL CLINIC IN VUNG TAU CITY
19 Pham Hong Thai Street, Ward 9, Vung Tau City.
28 Le Loi Street, Ward 4, Vung Tau City.
Hotline: 0914 83 99 66
General information page: https://www.facebook.com/nhakhoaquocbinh/
Intensive dental aesthetic information page: https://www.facebook.com/nhakhoathammyvungtau/