New generation dental implants are considered the perfect solution to restore lost teeth. With the ability to integrate bone rapidly, new generation implants help shorten treatment time. And quickly bring new teeth with excellent chewing ability and aesthetics.
With the current line of dental implants, the choice of implants that are suitable for properties of the jaw bone and the ability to integrate bone rapidly will depend on the experience of the physician.
Find out the standard structure of a dental implant:
Dental Implant consists of 3 main parts:
Titanium post replaces real root.
The connection between the implant and the porcelain crown is abutment, which also acts as a replacement for the crown.
Porcelain crown replaced the real crown.
This is clearly a denture that is fully functional and aesthetically pleasing to your teeth.
Cases of dental implants which integrate bone rapidly:
In fact, dental implants simple can meet all of the following:
Dental Implant for 1 tooth loss.
Dental Implant for loss of teeth.
Implant for complete loss of teeth (apply an All on 4 or All on 6)
And usually the patient needs to wait about 6 months, according to the development cycle of the bone, will produce new bone.
With implant able to integrate bone rapidly will help to shorten the time to produce new bone and increase stability for implants than conventional.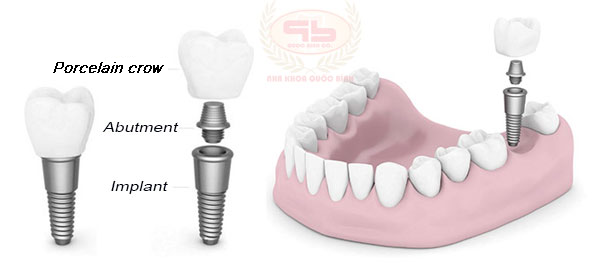 Advantages of Dental Implants technology integrate bone rapidly.
@Save time for treatment: Due to its ability to enhance blood supply from the surrounding area, it helps to nourish the bone better. Implant has a special treatment surface that shortens the time of bone integration so shortening treatment time.
@ Preventing bone loss: Loss of jaw bone is a common phenomenon occurring in the area of tooth loss. If you use dentures like porcelain bridges, removable jaws, you can't prevent this. Dental implants are the only option that helps you to preserve the real bone.
@High durability, chewing food like real teeth:  With the advancement of science and technology, implant quality is improving. Especially the Implant has the ability to integrate bone rapidly, the ability to attach to the bone firmly stronger. Therefore, implant becomes a part of the body and firmly.
In addition, porcelain crown for dental implants are much more durable than real teeth. This gives you the ability to eat completely normal, good food sensitivities and restore the main function of teeth.
Select a reputable implants place:
With intensive intervention treatments such as implants. Patients need to choose a reputable implant center. Fully meet the standards of professional skills, equipment standards, sterile process absolute.
Quoc Binh Dental Clinic with its chief physician, Doctor Phan Quoc Binh and his colleagues, are all well-trained and high expertise.
In addition, every year, doctors have advanced training in implant, orthodontic and aesthetic dentistry. With courses organized by Stomatological Hospital and organize international training. We are confident that we will provide our patients with high standard treatment, good quality and absolute safety.
For any further advice, please contact Hotline 0914 83 99 66
Or check-up & free consultation at the clinic:
QUOC BINH DENTAL CLINIC IN VUNG TAU CITY
19 Pham Hong Thai Str., Ward 7, Vung Tau City.
28 Le Loi Str., Ward 4, Vung Tau City.
Page online: https://www.facebook.com/nhakhoaquocbinh/
We are looking forward to provide you with the best service.