Sure in life, you will have several experiences through unpleasant feelings of teeth sensitivity. Not only do these symptoms cause us to eat poorly but also to reduce our quality of life. You feel uncomfortable but do not know what the cause, and how to improve. Let's study with the Quoc Binh Dental Clinic.
Why are your teeth sensitivity?
Teeth sensitivity is a sign that your teeth are sensitive.
When the enamel no longer protects the dentin, the dentin exudes contact with external agents causing sensitization. Dentin tube emit sensory stimulation on the nerves in the teeth and give you a feeling of teeth sensitivity.
So when you eat too hot – cold food or other strong flavor will cause your teeth to irritate and cause painful.
The factors that contribute to teeth sensitivity are as follows:
@ Improper brushing: When using a bristle brush, brush the teeth horizontally. Or rub several times a day causing enamel erosion, gum recession and show dentin.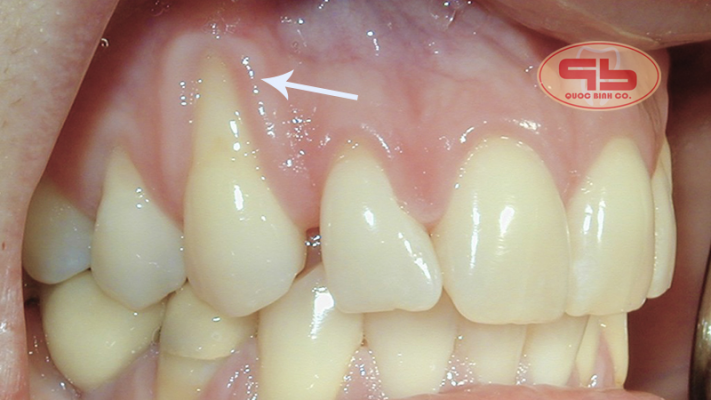 @ Root decay: teeth sensitivity can also come from root decay causes.
@ Gingivitis, periodontitis: when the gums are swollen, redness and bleeding. These infections cause damage to the root surface of the teeth, which directly stimulates the sensation of pain.
@ Cracked teeth: When tooth enamel is cracked, bacteria easily attack the damaged areas and increase the severity. Can cause inflammation of the tooth pulp and bring a feeling of teeth sensitivity, sharp pain.
@The abrasion of tooth surface due to the habit of grinding teeth: when you grind the teeth will cause the tooth enamel worn out and expose dentin. This is the cause of external effects that are easy to stimulate sensation.
@ Acidic foods cause erosion of the enamel and also expose the dentin layer, increasing irritation.
@ Teeth sensitivity due to dental interventions. With some patients, during dental treatment such as tartar remove, whitening, pulp, teeth grinding, fillings … also cause teeth sensitivity. However, this sensitive situation only lasts a short time and will expire.
What to do when your teeth are sensitive?
So, you have some of the factors that cause teeth sensitivity. This uncomfortable feeling not only makes your body tired but it really affects your life.
Not only that, teeth sensitivity is also a warning sign of other dangerous oral disease. So, when there are any signs of sensitive teeth, you should go to the prestigious dental clinic to see and receive special care from your doctor.
For further information, please contact: 
Hotline 0914 83 99 66
Online site: https://www.facebook.com/nhakhoaquocbinh/
Treatment facilities: QUOC BINH DENTAL CLINIC IN VUNG TAU
19 Pham Hong Thai Str., Ward 7, Vung Tau City.
28 Le Loi Str., Ward 4, Vung Tau City.