Periodontitis is a common disease that can cause tooth loss due to inflammation that damages the periodontal area. Dental implants are a new way to restore teeth when they are lost. So if you are having periodontitis should do dental implants or not? Let's find out the answer immediately.
To know when having periodontitis should do dental implants or not, need to know what is periodontitis?
Periodontitis is an infection of the periodontal area that surrounds the root. There are many states from mild to severe. At first, only gingivitis but then progress can cause tooth loss if not treated promptly.
The main cause of this disease is the failure to take proper care and oral hygiene.
You can find more specific information in the following article:
"What do you know about periodontal disease?"
However, Quoc Binh Dental Clinic would like to recall some obvious signs such as:
Tartar so much, swollen gums bleeding, bad breath, pus oozing from the gums … and loose teeth.
So when having periodontitis should do dental implants or not?
Dental implant is not contraindicated in patients with periodontitis. But to apply this advanced method of dental recovery, the area used for transplantation needs to be thoroughly treated for inflammatory conditions.
Patients will be thoroughly examined and planned by a specialist for treatment.
@ In the case of mild periodontitis, the doctor will clean tartar, especially under the gum. Combining gingivitis treatment, restoring damaged soft tissue area before implanting.
@ For severe periodontitis, the doctor will perform periodontal surgery. This is a very important step, helping to prevent the risk of infection and complications after Implant transplantation.
@ In addition, it is necessary to pay attention to issues of alveolar bone resorption, lost jaw bone when periodontitis. Because if you lose teeth due to periodontitis, the jaw bone usually will be destroyed. Therefore, experienced doctors need to examine and appoint jaw bone transplantation. After the jaw bone has stabilized, the quality is up to the standard then the transplant is carried out. Thus, the results of new dental implants can be guaranteed.
@ If periodontitis in the area of ​​teeth behind the upper jaw, and the status of upper jaw bone resorption, then need bone grafting sinus lift. To ensure that the maxillary bone thickness meets the bone standards for transplant.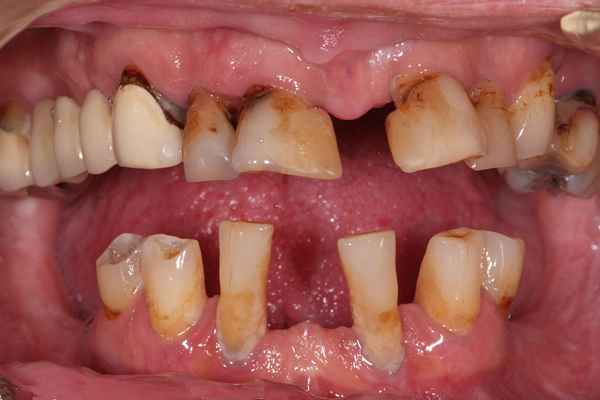 The answer to the question: when having periodontitis should do dental implants or not, has gradually been revealed. However, to be more complete, you need to be provided with some other equally important information.
For example, after treating periodontitis, how long does it take for a dental implant. This will depend on the actual condition of the patient.
@ If the periodontitis mild. After removing tartar, you need to re-examine and monitor the happenings in about 7-14 days later.
When the treatment results are good, your mouth no longer shows signs of infection. The doctor will perform the sequential steps during the Implant transplant.
Rest assured, because Quoc Binh Dental Clinic now applies the technique of cleaning tartar with ultrasonic cleaner. This technology helps the process of treatment fast, accurate and safe, deep cleansing to minimize damage to gum tissue.
@ If the periodontitis is severe. Patients after the periodontal surgery, will take a combination of a number of drugs that help reduce pain, anti-inflammatory.
At the same time, the patient will be instructed specifically in the steps of oral care, and protection of the surgical area. If you do it correctly, the healing process will take place quickly.
Need a follow-up examination after 7-14 days, for the doctor to check the status and determine the most appropriate time for transplant surgery.
When having periodontitis should do dental implants or not will depend on the medical condition at that time. If treated thoroughly and preserve good oral, dental implant solution is completely applicable.
To achieve the best results and ensure the most suitable treatment time, you need to pay attention to choosing reputable dental centers.
Quoc Binh Dental Clinic in Vung Tau always has a team of highly skilled doctors with many years of experience.
Moreover, the clinic system is fully equipped with modern equipment. Always meet the needs of high quality treatment in Vung Tau.
Contact us now for a free check-up and consultation with a specialist.
QUOC BINH DENTAL CLINIC IN VUNG TAU CITY.
19 Pham Hong Thai Str., Ward 7, Vung tau City.
28 Le Loi Str., Ward 4, Vung Tau City.
Hotline: 0914 83 99 66
Online information page:
https://www.facebook.com/nhakhoathammyvungtau/