Applications of laser have been popular for decades in the fields of medicine in general. Laser can be used in surgery, dermatology, eye, obstetrics … And obviously, this advanced technology has helped the Odonto Stomatology more effective treatment than expected. Laser in dentistry is becoming a trend today.
Laser in dentistry is a gentle, time-saving, and the results of treatment very well.
We can see some special applications of laser in dentistry as follows:
Used in soft tissue surgery
Endodontic treatment, periodontics
Bio-stimulation
Treatment of the skin of the mouth
Teeth whitening
With state-of-the-art laser technology, pre-set treatment modes are available. Each mode of operation will correspond to the different treatment needs of each disease.
How does laser in dentistry work?
@In the treatment of tooth pulp: Laser removal bacteria more radical than traditional methods. Not only that, it helps the treatment area healing faster.
The preparation of the canal pulp is more accurate, resulting in higher success rates.
@Laser treatment for gum disease, periodontitis, inflammation around the implant is very effective. Just bactericidal, isolate the lesion surface, stop the bleeding and reduce pain.
@In the biological stimulation effect, often the laser in the dentistry will be installed low capacity. The doctor will control the light to stimulate the healing.
Enhanced anti-inflammatory and analgesic.
Proliferating healthy tissue.
Stimulates the tissue in the wound, the scar heals faster and early functional rehabilitation.
@In aesthetics, you can see the application of laser is cutting gums. Creating neat and beautiful gums line. In addition, it can handle papillae in the mouth quickly without causing any discomfort.
@Whitening teeth: Lasers accelerate the whitening process three times more than other methods don't cause sensitivity. In particular, this technology can help bleach separate individual teeth. Suitable for situations when patients have mixed teeth (also have Veneer, porcelain crown)
As can be seen, laser in dentistry is less invasive but high effective.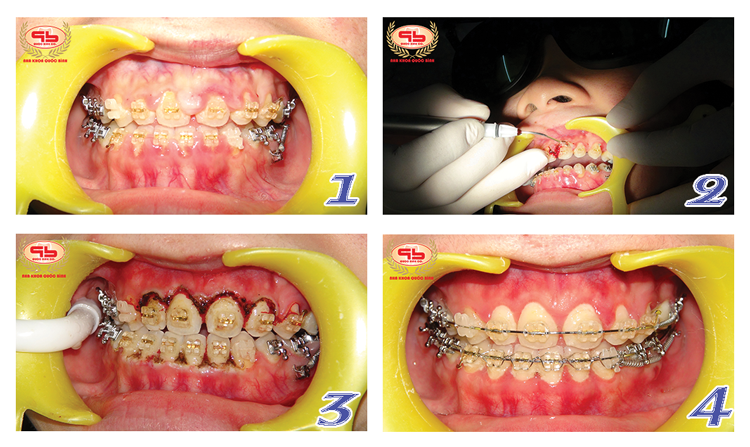 Laser in dentistry fully meets both physician and patient expectations:
With high quality European product, Laser Dr.Smile, manufactured in 100% in Italy. Fully meet the strict medical standards, will bring the convenience, accuracy for doctors treatment; At the same time the results are excellent, improving the quality of treatment for patients.
Note: For each treatment, there will be different capacities, projection time as well as other technical requirements. Therefore, the use of laser in dentistry in particular or laser technology in general, should comply with safety regulations.
Dr.Smile dental laser has an intelligent management system, which is pre-installed from simple to advanced modes. Help the doctor treat it comfortably, easily select the most appropriate function, follow the details and know the results of treatment.
CÔNG NGHỆ HIỆN ĐẠI – LASER TRONG NHA KHOA – Nha Khoa Quốc Bình

🌺TẠI SAO PHẢI ĐI QUÁ XA❓ TRONG KHI CÔNG NGHỆ TIÊN TIẾN NHẤT LẠI ĐANG Ở NHA KHOA QUỐC BÌNH❓Không chỉ Sài Gòn mới có #công_nghệ_laser điều trị #hiện_đại.🔰Chất lượng chữa trị bệnh lý r.ă.n.g m.i.ệ.n.g hiện nay không chỉ bao gồm✔️Chữa hết bệnh, bảo toàn chức năng ăn nhaiMÀ CÒN✔️Bảo đảm tính thẩm mỹ và hiệu quả dài lâu.🌈Công nghệ laser tiên tiến đã được áp dụng rất phổ biến trên thế giới. Và hiện nay đã có mặt tại #Nha_khoa_Quốc_Bình.Ngoài ứng dụng công nghệ #tiêm_không_đau, và các máy móc điều trị cao cấp khác, thì đây là sự NÂNG CẤP chất lượng dịch vụ t.ố.t n.h.ấ.t cho bệnh nhân tại thành phố Vũng Tàu (Bà Rịa – VT)"Hãy AN TÂM – THOẢI MÁI trong điều trịChúng tôi CAM KẾT đêm đến cho các bạn chất lượng dịch vụ TỐT N.H.Ấ.T"💖💖💖—–☘️☘️☘️—–NHA KHOA THẨM MỸ QUỐC BÌNH VŨNG TÀU19 Phạm Hồng Thái, phường 7, Tp Vũng Tàu.28 Lê Lợi, Phường 4, Tp. Vũng Tàu.Bs CK chỉnh nha, Implant: BS PHAN QUỐC BÌNH📞Hotline: 0914 83 99 66#nội_nha #nha_chu #tẩy_trắng #cắt_nướu #phẫu_thuật_mô

Người đăng: Nha Khoa Thẩm Mỹ Quốc Bình Vũng Tàu vào Thứ Năm, 25 Tháng 10, 2018
Quoc Binh Dental Clinic is proud to be the center of specialized cosmetic dentistry in Vung Tau City; Always apply the most advanced technology systems today.
With a team of trained doctors, clinical practice with new technology (100% success rate).
Our Clinic is committed to providing our customers with the highest quality of service and peace of mind during treatment.
QUOC BINH DENTAL CLINIC IN VUNG TAU
19 Pham Hong Thai Str., Ward 7, Vung Tau City.
28 Le Loi Str., Ward 4, Vung Tau City.
Hotline: 0914 83 99 66
General information page: https://www.facebook.com/nhakhoaquocbinh/
Aesthetic information page: https://www.facebook.com/nhakhoathammyvungtau/