Children eat a lot of sweetness but rarely brush their teeth. Therefore, the state of tooth decay progresses very strongly. And even more dangerous is the milk teeth pulp infection. So do the milk teeth pulp infection need treatment? How to prevent it?
Should treatment when have milk teeth pulp infection?
Milk teeth pulp infection causes toothache pain that makes babies very uncomfortable. This condition makes children eat poorly and sleep disturbances, affecting health.
In addition, milk teeth pulp infection without timely treatment also affect the permanent tooth germ.
A dental pulp repair that maintains the existence of baby teeth is essential for teeth that have not yet been replaced.
Because if the tooth is extracted too early, it will create unnecessary space in the jawbone. Consequently, the jaw bone does not develop as required. And more dangerously, the adjacent teeth tend to move into the gap, so that the permanent teeth cannot grow in place. Thereby creating deviations, making crooked teeth need orthodontics later.
After the dental pulp treatment for the baby teeth, the baby will no longer have pain, and eat and drink again. Help your baby happy & healthier.
Milk teeth pulp infection at mild case was treated will prevent inflammation of the jaw bone, preventing the development of pus under the teeth. Thereby helping permanent tooth germ is not affected badly.
The common cases when milk teeth pulp infection need treatment
Milk teeth with severe teeth decay, lesions have spread to the pulp chamber.
The baby teeth were hit hard and broke a part of the crown.
@What is the process of milk teeth pulp treatment for baby?
In the case of a milk teeth pulp infection but only partially, the doctor will treat each part. For example, the baby has a tooth decay, but the root is still healthy, the doctor will remove the damage, antiseptic and fillings.
If the dental pulp is completely damaged, the doctor will remove the pulp, disinfect and seal.
In addition to dental pulp repair, the doctor may also prescribe medication to help prevent recurrent infections.
@ Parents should pay attention to the children's teeth and pay attention to unusual symptoms such as toothache, especially at night, purulent swollen gums, … Or cavities break down the enamel layer on a large scale. Children should be taken immediately to the dental clinic for timely treatment by the doctor.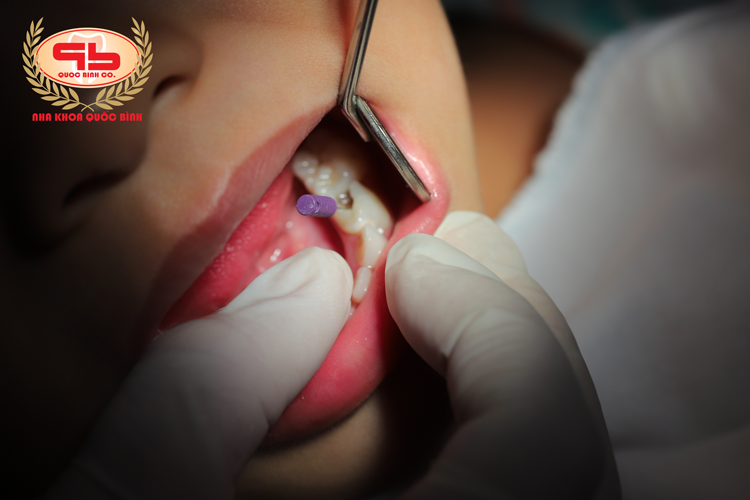 Preventing the risk of milk teeth pulp infection
Parents pay attention to help children maintain oral hygiene after meals, drink milk … brush your teeth clean and properly.
Limit sugary foods such as confectionery, soft drinks … Or highly sticky foods like marshmallows, dried fruits … This is a type of food that provides bacteria with strong activity in the baby's mouth
For younger children, flossing with a roll is difficult. So please use the tools that are already attached to a short dental floss, convenient for parents to help their child clean the teeth.
In addition to brushing teeth, babies need to combine mouthwash with diluted salt water, which helps reduce the amount of bacteria in the oral cavity.
Children should be taken immediately to the dental clinic for timely treatment when detecting signs of damage to the teeth, even the smallest trace.
Create a habit for your family to have regular dental checkups every 6 months to promptly detect signs of damage early. Do not get seriously ill before going to the dentist, it will just take time, health and money.
In Vung Tau, you can go to Quoc Binh Dental Clinic for free check-up and advice.
QUOC BINH DENTAL CLINIC IN VUNG TAU
19 Pham Hong Thai, Ward 7, Vung Tau City.
28 Le Loi, Ward 4, Vung Tau City.
Hotline: 0914 83 99 66/ 0254 383 9966
Online page:
https://www.facebook.com/nhakhoathammyvungtau/