In fact, deviant teeth not only affect aesthetics but also reduce the function of teeth. And thereby creating favorable conditions for a multitude of oral and dental diseases to develop. The most effective solution is orthodontic braces. Incorporating put minivis will significantly shorten the duration of treatment.
So what is minivis?
Minivis is a small metal post, shaped and sized like a screw.
Material made this metal post is the same as dental Implant, which is compatible with the human body. That's Titanium.
How to use minivis in orthodontic braces, and how effective?
Braces with minivis are a very effective orthodontic method. In Vietnam, this method has only been used in recent years.
In order to conduct the anchoring process, the doctor will directly insert the minivis into the jaw bone of the patient. Placement also depends on the purpose of treatment. However, not all orthodontic patients need this special metal post.
Only the cases after the examination, accurately assess the patient's condition; And the body's ability to respond to this method, the doctor will suggest that you use the minivis. It usually will apply to the case of protruding teeth. Or you lose tooth No. 6, which has the function of being a pillar to attach the device to pull other teeth.
The method of using the minivis to control traction and the direction of moving teeth provides high efficiency; As well as shortening treatment time significantly.
Usually, orthodontic braces will last for 12-24 months, some patients can last up to 36 months. With minivis, this time will be shortened to a minimum of 6 months compared to normal braces.
Some notes about the location of the minivis
There will certainly be some patients wondering why other people have plugged in this place, and I have a doctor to plug in another place. Is it effective???
Please respond to you: The location of the minivis will depend on the purpose of moving the teeth.
In most cases using this screw, the patient will be plugged into the no.5 or 6 tooth. There are also special cases, the minivis is also plugged into the front teeth.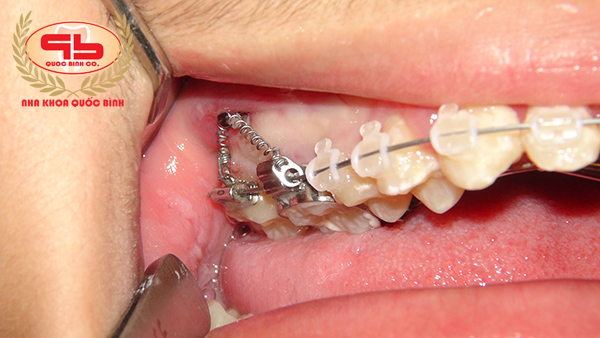 Does it hurt to plug the minivis into the jaw?
As described, minivis is like Implant. However, because the size is too small, plugging into the bone membrane is extremely simple.
You don't need to imagine the implant surgery to bring a lot of pain. Because attaching this metal post is like attaching a paper clip. The feeling is much more pleasant than dental implants. The execution time is very fast about 7-10 minutes / metal post.
After the attachment is complete, you may find it strange in your mouth, and it feels a little sensitivity, but will go away in 1-2 days. However, if you have a severe pain, you should immediately report it to your treating doctor.
Thus, braces with minivis combination will give you a great result in both aesthetic and rapid treatment time
.
However, this is the method that needs to be performed by highly qualified doctors. Therefore, choosing a reputable treatment center is very important. In Ba Ria – Vung Tau area, you can schedule free check-up and consultation at Quoc Binh Dental Clinic.
With a team of treating doctors with more than 20 years of experience; Regularly improving professional skills at home and abroad. Quoc Binh Dental Clinic is committed to giving you the journey to find the true beauty with ASSURANCE-TRUST-SATISFACTION.
Any information you need to support, please contact:
QUOC BINH DENTAL CLINIC IN VUNG TAU CITY
19 Pham Hong Thai, Ward 7, Vung Tau City
28 Le Loi, Ward 4, Vung Tau City.
Hotline: 0914 83 99 66
General information page: https://www.facebook.com/nhakhoaquocbinh/
Intensive aesthetic information page: https://www.facebook.com/nhakhoathammyvungtau/