When performing motherhood, a woman's body undergoes many great changes. Because from the beginning of pregnancy, hormones in the body will change; Along with the disturbance of daily living habits… These things make pregnant women prone to dental disease.
The pH environment in the oral cavity changes, which also changes the body's ability to protect itself. At the same time, teeth are more sensitive, tartar is easier to accumulate. Since then, diseases such as tooth decay, gingivitis, periodontitis … have a chance to increase more than usual.
So what to do to reduce the rate of pregnant women prone to dental disease to low?
Oral diseases not only have a negative impact on pregnant women, but also negatively affect the fetus.
Therefore, having a comprehensive oral health care and prevention regimen is always important.
In order to help reduce the status of pregnant women prone to dental disease, we should advise them:
@ Should maintain a good habit of daily oral care:
Despite knowing that during this period, pregnant women always feel tired and uncomfortable. However, brushing your teeth at least twice a day is something that should be taken seriously.
Should combine dental hygiene with dental floss, or mouthwash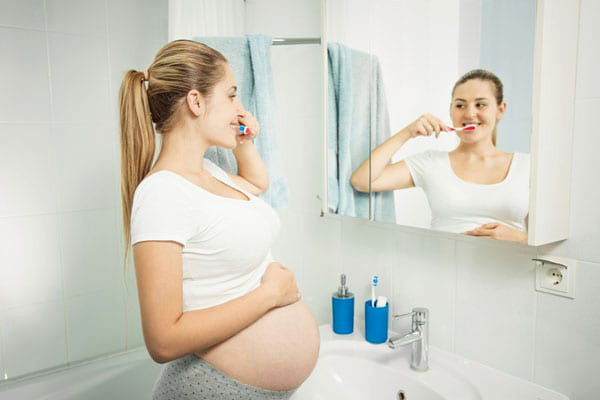 @Don't skip the dental exam during pregnancy
Should have dental examination, treatment of oral diseases before pregnancy.
However, do not skip the dental exam during pregnancy. Because during this period, pregnant women are prone to dental disease. So dental check-ups during pregnancy will be a great way to help you protect your health effectively.
Gingivitis during pregnancy is very common and is also very easy to prevent, or reduce the harm through careful oral hygiene.
Note:
It is important to inform your doctor that you are pregnant before any examination.
Limit X-ray exposure unless specifically requested.
Do not self-medicate to treat toothache without a doctor's prescription.
The following dental treatments can be used during pregnancy:
@ Scrape tartar. Plaque build-up creates favorable conditions for bacteria to grow and cause harm. Therefore, during pregnancy, you also need to remove them.
Scaling should be performed when you have entered the second trimester; At this time, your body has adapted to pregnancy, and the pregnant belly is not too big, so walking is also easy.
@ Fillings. During the first trimester of pregnancy, virtually all non-critical and non-fetal treatment is discontinued. That's why dental exams are usually done when you're past your first trimester.
Fillings can still be done while you're pregnant, but still need a dentist's evaluation and prescription.
@ Treatment of gingivitis. Gingivitis during pregnancy is very common, and also leaves dangerous complications if the disease becomes severe.
Due to this period of hormonal changes… gums are often swollen, painful and may bleed. Gingivitis can appear from the 4th month of pregnancy, and last up to the 8th month. Sometimes, there are pregnant women who still have gingivitis after giving birth.
Although this is a common condition, you can still prevent, and reduce the harm, through proper dental care and timely dental visits.
So when I'm pregnant, can I have my teeth extracted, or make porcelain crown?
@ Note for the case of tooth extraction.
When a tooth is extracted, the patient will usually be given pain relievers or anti-inflammatory drugs. And if you are pregnant, the use of drugs during this time is something to be careful. Therefore, the doctor will evaluate the actual situation and make the decision to choose the best solution for you.
@ Should porcelain crown be made while pregnant?
Making porcelain crown is classified in the group of cosmetic treatments that are not urgent. In the process of making porcelain teeth, there will be a stage of grinding the tooth pulp, taking X-rays; Or there is an anesthetic when grinding the tooth… Some steps in the process may require you to lie in the dental chair for 30 minutes or more. For pregnant women, lying down for such a long time will cause a lot of fatigue. Therefore, if you are pregnant, and really do not need porcelain crown, you should wait after completing the birth.
In some cases where porcelain teeth are required, you need your dentist to monitor and take good care of you. And at this time, choosing a reputable clinic with a skilled doctor is very important.
Thus, through the above sharing, you have partly understood why are pregnant women prone to dental disease? At the same time, you also know how to prevent disease, as well as protect and improve health.
In Vung Tau City, you can visit and receive free consultation with experienced doctors at
QUOC BINH DENTAL CLINIC IN VUNG TAU CITY
Chief Doctor: Dr. PHAN QUOC BINH
Facility 1: 19 Pham Hong Thai, Ward 7, Vung Tau City.
(Closed every Sunday)
☎️ 09148399 66/ (0254) 383 99 66
Facility 2: 28 Le Loi, Ward 4, Vung Tau City.
(Closed every Saturday)
☎️ (0254) 381 83 18
Facility 3: 649 Truong Cong Dinh, Ward 7, Vung Tau City
Doctor in charge: Dr. NGUYEN HUU CHIEN
️☎️ 0708 649 649
(Closed every Friday)
⏰Working time: 7:30 – 11:30, 14:00 – 20:30
Dental cosmetic fanpage: https://www.facebook.com/nhakhoathammyquocbinh/
Dental general fanpage: https://www.facebook.com/nhakhoaquocbinh/