Dental 3D scanner enhance the experience of customers. 3D scanner with advanced technology helps dentists shorten treatment time, and bring surprisingly accurate results. Let's learn about this technology right away.
What do you know about dental 3D scanner?
The scanner used in taking impressions of jaw samples is an advanced technology device that has been applied in the field of dentistry in recent years.
This device makes taking impressions on the patient's mouth more accurate and faster. And no longer cause discomfort like old solution to take impressions on teeth with plaster materials before.
The machine uses a scanning beam system to produce multi-dimensional images of teeth, gum tissue, jaw structure and even bite.
All scanned information will be stored and analyzed through the design application on the computer. From there, it gives an absolutely accurate image of the patient's real tooth condition. This effectively supports orthodontic treatment and restoration of porcelain teeth.
You may not know, taking dental impressions is very important. If the impression is not taken correctly, it will lead to incorrect orthodontic or porcelain teeth, thereby greatly affecting the treatment results.
Therefore, this device is groundbreaking; It is considered the right arm for dentists in the field of clear braces, and porcelain restorations.
However, in Vietnam, not all dental centers have dental 3D scanner because the investment costs are quite high. Only large-scale, reputable dentists, and always up to date with modern technology applications, as well as focusing on treatment quality, are equipped with this equipment.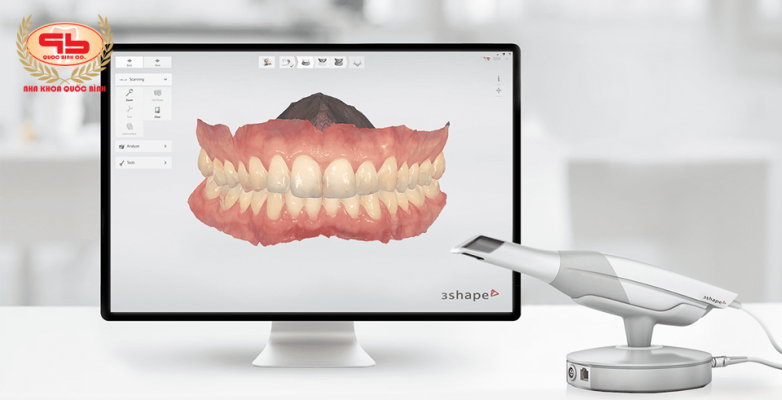 What are the benefits of a 3D scanner of the jaw?
The solution helps to optimize the treatment process
, providing the highest possible treatment quality.
Absolutely accurate at each stage of taking teeth impressions, or taking bite marks; Serving for the manufacture of orthodontic trays, or the processing of porcelain teeth / veneers
Extremely fast scanning time. Instead of having to keep the patient waiting for a long time on the dental chair if using the old method.
New solutions for patient comfort. Patients will no longer feel nausea, or discomfort in the mouth … These are common signs when taking impressions of jaw samples by old methods.
Well-stored data, multi-dimensional images allow doctors to see more angles more clearly.
This device in combination with other specialized image analysis applications will help you to predict the treatment outcome.
In Vung Tau city, which dental clinic applies this modern technology?
Quoc Binh Dental Clinic is one of the few dental clinics in the South that uses 3D scanner of jaw samples.
This equipment is imported directly from Denmark, meeting strict European standards; Provides accurate results to help optimize the treatment process.
When you come to Quoc Binh Dental Clinic, you will experience modern dental impression technology. And depending on the type of service, such as orthodontics with transparent trays, you can preview the treatment results.
With a team of doctors with more than 20 years of expertise in the profession, we have successfully treated tens of thousands of patients. Quoc Binh Dental Clinic will surely bring you the best quality of treatment.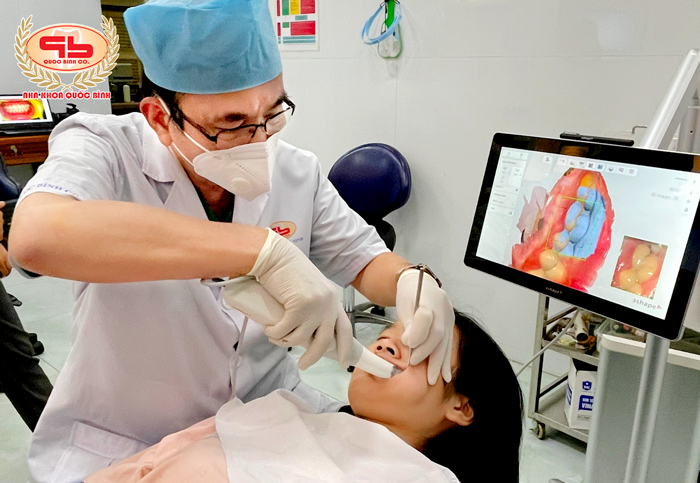 Book an appointment: 0914 83 9966/0254 3839966
Quoc Binh Dental Clinic – Dr. Phan Quoc Binh, Orthodontist and dental implant specialist.
Dental cosmetic fanpage: https://www.facebook.com/nhakhoathammyquocbinh/
General fanpage: https://www.facebook.com/nhakhoaquocbinh/
Price list: https://nhakhoaquocbinh.com/bang-gia/