Up to now, dental implants are the most popular solution to restore lost teeth. Anyone who is in good health can perform dental implants right away. For the purpose of preventing jaw bone loss, and maintaining a healthy smile, the sooner the tooth is restored the better. So is it possible to get dental implant while pregnant?
To answer this question, we need to learn a little bit about pregnancy and dental implants.
What are the differences in the oral care regimen for pregnant women?
For pregnant women, dentists always encourage pregnant women to have a careful oral care regimen. Proper oral hygiene, regular check-ups at the stages before – during and after pregnancy. Because this will help you prevent the best dental disease.
During pregnancy, after the first trimester, you can perform some simple treatments such as scaling, fillings, etc.
In theory, making porcelain crowns, root canal treatment or dental implants can also be done at this stage. However, in practice, most dentists carefully assess the need for each procedure. Often dental implant surgery will be encouraged to move to the period after you give birth.
Why do you need to wait longer without dental implant while pregnant?
According to medical studies, local anesthesia is safe for pregnant women. However, when it comes to dental implants, anesthesia requires a stronger dose and impact. This will have the risk of having an adverse effect on the pregnant woman or the unborn baby.
On the other hand, some steps in the dental implant process require an X-ray scan or CT cone beam scan. And this also brings bad risks to pregnant women if done in the first 3 months of pregnancy.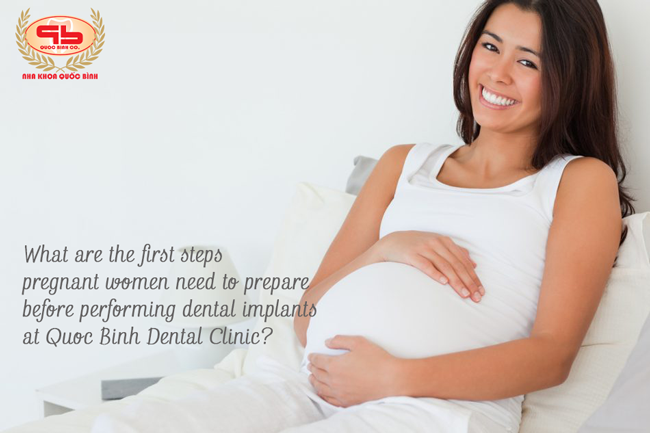 So is it possible to get dental implant while pregnant?
The answer is: you can still take the first steps in the process of dental implant while pregnant.
@ During this initial phase
, you will be thoroughly examined and counseled; In order to prepare well for the time when the dental implant officially takes place after you give birth to your baby.
Note: The examinations, and survey films will be done in the 2nd trimester (this period is safe to take x-ray films).
During this visit, your doctor will check the quality of your jawbone. Determine if a jaw bone grafting is necessary. Because if bone grafting is needed, it will take an extra time (about 6 months if bone grafting before dental implant).
@ After being examined and determining the condition of your teeth, you will be advised on the right time for the implant.
While waiting for surgery, some small but important notes need you to keep in mind.
Monitor your oral health closely for the benefit of you and your unborn baby. Take good care of your teeth, minimize the risk of harm as
Brush teeth with correct technique
Brush your teeth regularly at least twice a day, for about 2 minutes each time.
And combine using dental floss, mouthwash.
Should periodically clean tartar to avoid causing gingivitis, or infection to other parts.
Eat foods rich in nutrients and fiber (fiber in strawberries, apples, etc. also helps reduce plaque on teeth)
Free examination and advice on specific steps in the process of dental implant while pregnant at
QUOC BINH DENTAL CLINIC IN VUNG TAU CITY
Chief Doctor: Dr. PHAN QUOC BINH
Facility 1: 19 Pham Hong Thai, Ward 7, Vung Tau City.
(Closed every Sunday)
☎️ 09148399 66/ (0254) 383 99 66
Facility 2: 28 Le Loi, Ward 4, Vung Tau City.
(Closed every Saturday)
☎️ (0254) 381 83 18
Facility 3: 649 Truong Cong Dinh, Ward 7, Vung Tau City
Doctor in charge: Dr. NGUYEN HUU CHIEN
️☎️ 0708 649 649
(Closed every Friday)
⏰Working time: 7:30 – 11:30, 14:00 – 20:30
Dental cosmetic fanpage: https://www.facebook.com/nhakhoathammyquocbinh/
Dental general fanpage: https://www.facebook.com/nhakhoaquocbinh/