Until now, the problem of deviated teeth we usually care about when entering adulthood. Because at that time, you'll pay attention to aesthetics and thinking about adjusting teeth. However, the core of the problem comes from childhood. So deviated teeth in children are really worrying? Parents should find out more about this information.

Understanding how are deviated teeth in children?
You will notice signs of growing crowded teeth, lack of space and no gap. Newer teeth grow have larger in size than location in jawed teeth, resulting in crowded conditions. There are many situations in which the child's teeth are outward or curved inside, making the face of the child unbalanced.
So if parents are interested in dental health of children from a young age, how do they have a direction to handle?
Some tips for preventing and correcting misaligned teeth of children:
1.Help your baby at home:
Parents are reminded to help them give up bad habits such as pushing tongue, lip sucking, biting lips, mouth breathing, grinding teeth, sucking fingers or biting hard objects (pencil, ball pen, toy …). Because at an early age, any impact that lasts for long periods of time will also affect the way your teeth work.
2.Early control:
Register your child's dental tracking at dental clinics (follow up from teething of baby tooth to permanent teeth replacement).
There are some parents who do not properly appreciate the importance at this stage, and let the natural teeth grow out of control. Lead to some children will not be well controlled from a child, teeth grow up will not be neat and easy to suffer from dental diseases such as tooth decay, teeth deviation
Thus, you should take the baby to the doctor for checking and monitor the baby's teething, will help the doctor in the direction of timely handling of cases of permanent teeth grow up deviated. As a result, your child will have good control over the teething process, and reduce the risk of orthodontic dentistry later.
Normally, during the initial orientation phase of the newest permanent teeth, but which with signs of deflection, the doctor will give the child orthodontic appliances, which function to help permanent teeth grow in place. And sometime remove unnecessary teeth to make room for beautiful permanent teeth
3.For the baby's parents are interested when the child has exhibited deviated teeth:
Although this is a late stage in control, it is better than doing nothing. Doctors will plan the best treatment for each baby in each stage.
It is possible to use a removable trough, or perform orthodontic braces.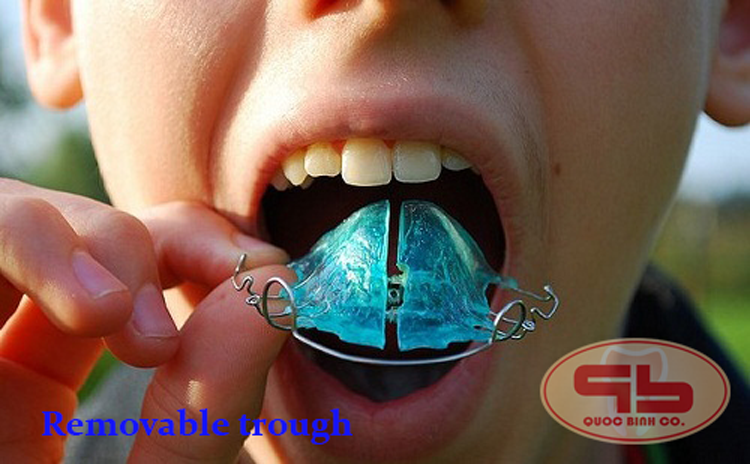 The sooner the child is treated, the better the orthodontic effect of the deviated teeth in the baby.
Currently, Quoc Binh Dental Clinic is applying advanced technology in orthodontics. Technology meets international standards with a team of doctors with many years of experience, and regularly improve their expertise through training classes at home and abroad. You can rest assured when bringing your child to Quoc Binh Dental Clinic to help children get the best standard teeth.
You can refer to the information "4 Benefits of orthodontic braces" to be able to make the correct decision when use the orthodontic braces your child's deviated teeth. If you have any questions about children's deviated teeth, please contact us immediately via Hotline 091 483 9966, for a doctor consultation directly.
Quoc Binh Dental Clinic