In dentistry, there are many treatments that require anesthetic injections, especially tooth extraction. And the question that patients often ask is: Injecting anesthetic when tooth extraction has effect for how long? Is there any pain after the anesthetic completely dissolves?
Let's find answers to these questions.
Answering the first question, injecting anesthetic when tooth extraction has effect for how long?
Tooth extraction must be anesthetic injection. This is the correct thing. However, the dose of anesthetic, and the duration of action will depend on many factors.
The average number we give you for reference if injecting anesthetic when tooth extraction will has effect about 30-60 minutes.
However, depending on the position of the tooth to be extracted, the duration of the anesthetic effect will have different requirements. For example, the extraction of milk teeth, loose teeth, anesthetics only need to be effective for 15-20 minutes. But if extractions of molar teeth or wisdom teeth are present, it takes longer time for effective anesthetic, about 60-90 minutes.
But if extractions of molar teeth or wisdom teeth, the anesthetic effect need longer, about 60-90 minutes.
So injecting anesthetic when tooth extraction is it painful?
The fear of pain when injecting is always something that people are afraid to come to dentistry. However, you should not worry too much. Because anesthetic injection is an operation that makes the area to be treated without pain. And when you start the injection, you only feel a little pain like an ant biting right where the needle touches the mucosa. And after the medication is infused, you feel no pain at all.
For customers who have a great fear of feeling "ant biting" when the needle penetrates the oral mucosa, Quoc Binh Dental Clinic has equipment to help prevent such discomfort. That is the "Dentalvibe"- Painless injection technology. This device works to prevent pain signals at the injection site being transmitted to the brain. So during the procedure, you do not feel uncomfortable.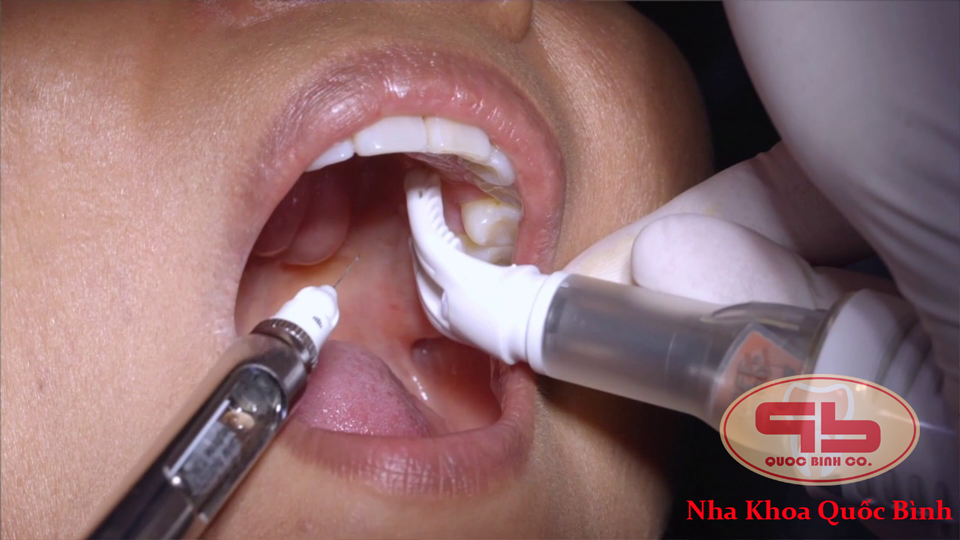 However, please note that when the anesthetic wears off, it is likely that the treatment area will feel dull pain. But usually doctors will prescribe pain medication for you to use right after the extraction; Therefore you will also feel more comfortable than usual.
At the same time, after extractions, especially wisdom teeth, patients will often be told to apply ice just outside the cheek to help reduce swelling and pain after the anesthetic dissolves.
Injecting anesthetic when tooth extraction have any complications?
This is a concern of many people when they know they will be injected with anesthetic.
Anesthetic injection when tooth extraction is theoretically not dangerous to the patient. And the effectiveness of the drug only lasts for a certain period of time, relatively short. However, in reality, some people are allergic to anesthetics, and after the injection will show different signs.
Such as:
@ Shock anesthetic immediately after injection.
This is a rare occurrence, and the main cause is an allergy to the drug.
Anesthetic shock is not caused by the skill of a doctor, but by your own body reacting to its components.
Therefore, to prevent bad situations from happening, you should go to large, reputable dental centers, with modern equipment and good doctors to be able to handle this situation promptly.
@ Fainting after injecting anesthetic when tooth extraction
First, be aware that fainting has many causes. However, if it happens right after anesthetic injection, it can be explained as follows: patients with hypotension, patients with a history of heart disease, or anemia to the brain causing shock …
Or the most common cause is anesthetic affecting the sympathetic nerve. The most obvious manifestation is that the patient will feel nauseous, limbs drooping, pale face, drop in blood pressure. There is a risk of apnea, cardiac arrest.
@ Swelling, unusual pain after injection
This is a side effect of anesthetic injection. The consequences may last for swelling, pain for hours or days.
@ Massive bleeding after injecting anesthetic when tooth extraction:
This is a rare situation but when it happens, it is easy to make people lose their temper. The reason is that the doctor may have inserted a needle into a blood vessel. For example, injected into a vein, blood will flow backward, when the needle is drawn, blood will flow out massively. The consequences of this situation are quite dangerous and potentially fatal.
Thus, although injecting anesthetic when tooth extraction is essential, but also there will be many risks.
Therefore, to ensure your own safety, when performing any procedure related to anesthesia, you should perform at a reputable dental clinic.
QUOC BINH DENTAL CLINIC IN VUNG TAU CITY.
19 Pham Hong Thai str., Ward 7, Vung Tau City.
28 Le Loi str., Ward 4, Vung Tau City.
Hotline: 0914 83 99 66
Page online:
https://www.facebook.com/nhakhoaquocbinh/