Are you afraid to go to a dental clinic for medical treatment? If so, you are likely to be like the tens of millions who have the same obsession with needles. But if you fear that, you ignore the recommendations for oral health care, you will be at risk for worse teeth – your smile. Painless injections technology will be a great step, helping millions of patients become more confident in the treatment and maintenance of oral health.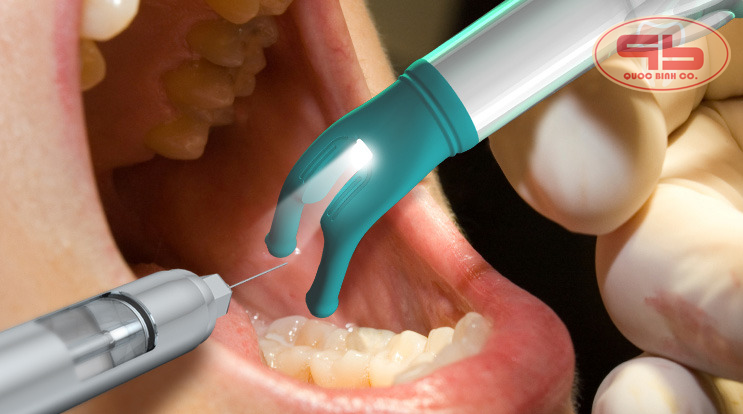 Recent research shows that oral health reflects the overall health of your body. Studies have shown that bacteria on teeth and gums can enter the bloodstream. And contribute to health conditions such as heart disease, diabetes, complications during pregnancy and preterm birth, and pancreatic cancer. But just good oral care, you can help prevent certain diseases.
Eliminate pain when have painless injections technology in the dentist:
With the application of advanced technology, Quoc Binh Dental Clinic is the first dental Clinic in Vung Tau using painless injection technology. This is a great way to reduce your fear of dental treatment, and thus help you take better care of your dental health.
This unique tool provides light vibration at the injection site, dramatically reducing pain by closing the "gate" that sends pain signals to the brain.
"The theory of control of pain sensation say that: Human pain occurs when stimulation causes pain through the nerve control ports along the spine to the brain. By occupying these ports with other sensory signals such as vibration and pressure, it eliminates the feeling of needle injections, it disturbs the defensive function of the nervous system."-  According to Pr. William McKay, University of Saskatchewan, Canada.
Thus, patients who have experienced painless injection technology at Quoc Binh Dental Clinic are often unaware of the injection needle pierced through the skin.
This tool is especially useful in reducing the fear of dental treatment in children. In fact, many patients have said, "If they had had this painless injection technology when they were a children, fear of pain from the injection would never haunt them"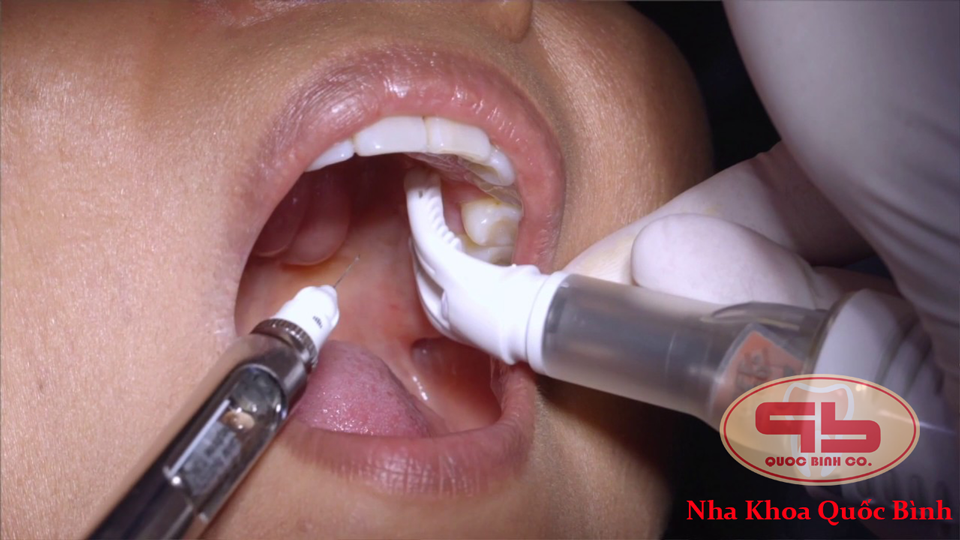 So let's rejoice and say "Good Bye" with fear named "scared injection needle". If all treatments at Quoc Binh Dental Clinic involve the use of needles, the pain of needles is just past. We always update the world advanced technology in the field of dentistry, to bring the most practical benefits for all customers of the Quoc Binh Dental Clinic.
Not only you have the utmost trust on the dedicated consultant team, but also the peace of mind of the quality of treatment; As well as the psychological comfort of enjoying the high technology of the most advanced in the world.
For more information on treatment services, please refer to
Hotline: 091 483 9966
Page: https://www.facebook.com/nhakhoaquocbinh/
Or free consultation and check-up with a doctor at:
Add 1: 19 Pham Hong Thai St., Ward 7, Vung Tau City
Add 2: 28 Le Loi St., Ward 4, Vung Tau City
We are happy to welcome you, as well as to help you have the best care for your own oral health and family.
Quoc Binh Dental Clinic.