Dental calculus, also known as tartar, is a calcified plaque that becomes solid. They cling to the base of the tooth, or squeeze into the crevice of teeth to cause gums to fall and create gaps. The color of tartar can be ivory-white or yellow-brown. This is the cause of gingivitis … So where is the good place for scraping tartar in Vung Tau city??
Some suggestions will help you to know where is the good place for scraping tartar in Vung Tau City:
Dental calculus is a good environment for countless bacteria to attach and grow. The more they accumulate, the worse will be for dental health.
Diseases such as gingivitis, tooth decay, periodontitis will progress quickly if tartar persists for a long time without being treated.
Dental calculus is not only the cause of many inflammatory conditions, but they also affect the aesthetics of the teeth.
Initially tartar (or dental calculus) is white as lime. But due to the nature of staining quite quickly, so through the eating process, tartar quickly turned yellow & brown, looked very bad.
Currently, at Quoc Binh dental clinic in Vung Tau City, applying advanced technology to clean tartar with ultrasonic vibrator. During the implementation process does not create pain, or sensitivity to customers. Not only that, this technology also helps to clean tartar effectively. Helping prevent gum disease, periodontitis …
The cost of cleaning tartar ranges from VND 250,000 to VND 350,000 depending on the situation more or less.
If you sign up for a dental care package that removes tartar once every 6 months, the cost is only VND 200,000.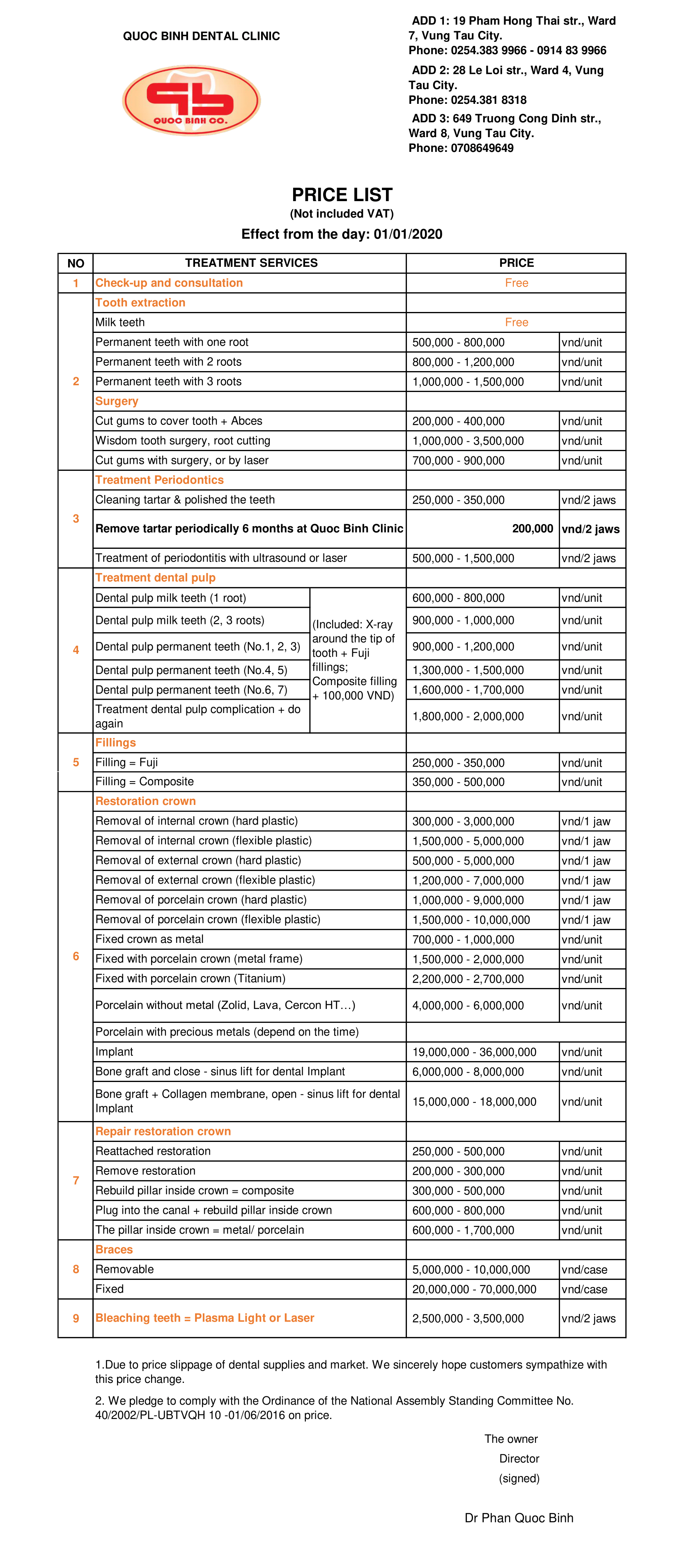 Why do we need to clean tartar periodically??
 Tartar is a cause of gum disease, periodontitis … And the worst consequence is tooth loss.
Refer to periodontal disease details:
"What do you know about periodontal disease?"
Some bad daily actions or habits contribute to poor oral health. Such as:
Brushing your teeth improperly, not cleanly, causes food particles to remain on the teeth. Then, in the oral cavity, combine with minerals, and bacteria to form plaque.
Initially, the plaque is still in a soft state, but if left to accumulate for days or weeks, they will become harder.
Tartar often clings in the teeth, neck, chewing surface of the molars and under the gums. And this will be a fertile ground for bacteria to multiply and grow and harm the mouth.

So, if you are wondering where is the good place for scraping tartar in Vung Tau City, please come to Quoc Binh Dental Clinic.
What is the process of cleaning tartar with an ultrasonic vibrator?
This is not a difficult technique, but to perform well, it needs careful and meticulous.
With specialized equipment, vibrating heads will be put into each appropriate area and promoted its use.
First, the doctor will break the tartar on top. Manipulate slowly and take away little by little. Following that, the special heads will be put under the gums to take away tartar which around the tooth. This is a step that requires gentle and proper manipulation, to avoid making patients' teeth sensitive.
Finally, the step to polish the teeth. This step makes the teeth surface shiny and smooth, minimizing the adhesion of plaque in the future. And especially this process does not damage the tooth structure.
As a result, you have clean teeth and fresh breath.
The advice of dental experts: should clean tartar regularly every 6 months to minimize the risk of infection.
Contact us now for a free check-up and consultation with a specialist
QUOC BINH DENTAL CLINIC IN VUNG TAU CITY
19 Pham Hong Thai, Ward 7, Vung Tau City.
28 Le Loi, Ward 4, Vung Tau City.
649 Truong Cong Dinh, Ward 8, Vung Tau City.
Hotline: 0914 83 99 66
Online information page:
https://www.facebook.com/nhakhoathammyvungtau/