Tooth wear is very easy to see in patients who come to the dentist to perform any treatment. So what causes tooth enamel wear? Is it because of overeating or not? Or is there another reason? Let's find out.
Tooth wear can cause discomfort in a patient's daily life. The most noticeable discomfort is tooth sensitivity. Of course tooth sensitivity can be caused by many different things, but most of it is caused by enamel wear.
What are the causes of tooth wear?
There are 2 main causes of tooth wear. It is due to mechanical and chemical action.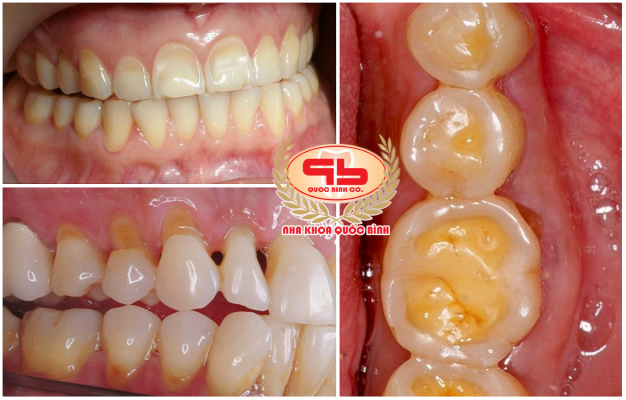 Each different type of effect will give a number of different signs of awareness.
@ Tooth wear due to mechanical impact:
May be due to the process of eating and chewing causing wear, or teeth grinding -> Worn chewing surface of teeth (attrition)
Or due to excessive friction between the dental cleaning tool and the enamel -> abrasion
@ Tooth wear due to chemical impacts:
Due to tooth enamel in contact with acidic substances in the oral cavity. This substance can come from food, or from gastric juice reflux from the stomach (in gastroesophageal reflux disease) …
These substances are capable of dissolving enamel causing tooth erosion (contact environment has pH less than 5.5)
In addition, the acid produced from the living activities of bacteria in the oral cavity will damage the enamel … creating tooth decay.
Some good examples to help you visualize:
Foods with pH less than 5.5: carbonated soft drinks, lemon tea, coffee, wine, fruit juices (oranges, apples, pears …), yogurt, fermented vegetables …
Saliva role in tooth enamel erosion?
Are you very surprised to see the title just written above? In fact, if the amount of saliva in your oral cavity is too little then you run the risk of tooth erosion.
The reason is simple. Because saliva has the ability to neutralize acidic substances and wash out the mouth. Therefore, if you eat – drink, or use acidic substances that your mouth cavity does not secrete the necessary amount of saliva (due to disease, due to age), then obviously the acid residue destroys your enamel.
On the other hand, saliva contains several minerals that help in healing teeth / oral cavity.
Reference example: our human body is wonderful, when seeing some sour dishes, we immediately saliva. One part helps to chew food easier, easier to swallow, on the other hand helps neutralize the acid in the food. But if you regularly eat hard and sour food… no saliva can help you prevent tooth wear.
Tooth wear does not come from just one cause.
In your daily life, you go through many activities. And in the mouth, there is not only one fixed cause that causes tooth enamel wear.
This pathology appears by many causes.
For example, when your teeth come into contact with an acidic substance, the first reaction is that the enamel becomes weaker. Immediately after that, the act of chewing or friction with the toothbrush will cause mechanical erosion.
Or another case, your teeth are worn out due to the habit of eating hard food, or teeth grinding. Then the enamel coating is no longer available, and will not be able to protect the soft dentin layer inside. And if that time, your teeth come into contact with acidic substances, then obviously the erosion will be more severe.
Conclusion: the causes of enamel wear can be rotated or combined to damage your teeth
Is tooth wear easy to detect?
If they only appear in the early stages, you will not notice their transformation. Until you feel sensitive while eating, or brushing your teeth, then your teeth are already damaged a lot.
However, the dentist is the one who can immediately detect this pathology from the small signs. Thus, periodic dental examination is of high importance in the problem of oral disease control and prevention.
Some of the information above has given you quite a lot of useful information about the causes of tooth wear. We will continue to refer the treatment and prevention solutions in the next article.
Quoc Binh Dental Clinic in Vung Tau always has a team of dedicated and professional doctors – free examination and consultation for you.
—- ☘️ ☘️ ☘️—-
QUOC BINH Dental Clinic in VUNG TAU
Chief doctor Dr. PHAN QUOC BINH
Facility 1: 19 Pham Hong Thai, Ward 7, Vung Tau City.
(Closed every Sunday)
☎️ 09148399 66 / (0254) 383 99 66
Facility 2: 28 Le Loi, Ward 4, Vung Tau City.
(Closed every Saturday)
☎️ (0254) 381 83 18
Facility 3: 649 Truong Cong Dinh, Ward 8, Vung Tau City.
Doctor in charge: Dr. NGUYEN HUU CHIEN
☎️ 0708 649 649
(Closed every Friday)
⏰Working time: 7h30-11h30, 14h-20h30
Dental cosmetic fanpage: https://www.facebook.com/nhakhoathammyquocbinh/
General teeth fanpage: https://www.facebook.com/nhakhoaquocbinh/